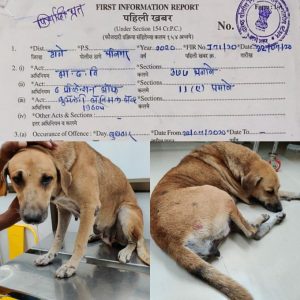 A 40-year-old Indian man raped a female stray dog, in the Maharashtra India, last week the rapist was arrested only after the tweets regarding the rape incident went viral.
On Saturday an Indian website reported the rape incident after twitter users and animal rights activists are sharing the story on twitter and other social media sites and calling it a "heinous incident of animal cruelty".
Many of the twitter users also highlighted the delay in the action of police against the case and other such cases and wondered if enough seriousness was given to animal rape cases in the country.
According to the police, the dog rapist used to make a living by doing a number of different odd jobs, including manual scavenging.
On Tuesday, a few boys, regularly serving the food to animals in the area, identified the man abusing sexually to the female dog and they immediately reported the incident to an animal rights activist – Aditi Nair in the area. Aditi Nair reported the incident to the local police station.
According to reports, Aditi said that police were initially showing non-serious behavior against the case when animal rights organization, @myPALclub tweeted: "Rani's case is that of animal rape. In a country where human rape is not taken seriously, what are the chances of justice in an animal rape case? Almost 0."
A day later after the tweets, the local police registered an offense and launch FIR under the Indian Penal Code Section 377 (unnatural sex) and Section 11(a) of Prevention of Cruelty to Animals Act, 1960.
The animal rapist was arrested and an investigation is being conducted into the case as per law and regulations.