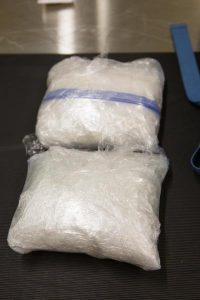 The Crystal Meth was concealed in the inner lining of Luggage of the passenger at Dubai International airport (DXB).

In Dubai International Airport (DXB) an Asian passenger tried to smuggle (1.3 kilograms) of narcotic crystal meth, worth approx. Dh45,000.
The Airport top custom officials said: Crystal meth was concealed in the inner lining of the Bag of the passenger at the Dubai International Airport (DXB).
Mr. Ibrahim Kamali (Director of the passenger operations) said: The officials suspected passenger because of his looked confused and in tension. "The suitcase was inspected thoroughly Dubai Officials and the narcotics crystal meth recovered."
The Asian smuggler was handed to Dubai Police at Directorate for Drug Control, following the protocols of joint work and cooperation and co-effort by Dubai Police and Dubai Customs.
"Dubai Customs officials use the best and the most experienced inspectors to thwart any smuggling attempt and protect United Arab Emirates – UAE against the hazards of smuggling goods."
The doctor and the expert pharmacist said that narcotic crystal meth is a form of methamphetamine.
It is crystal meth also known as a white crystalline drug that some people illegally consume by snorting, smoking, or injecting it with a needle."
Its an extremely addictive and most powerful made by man and its use can lead to severe physiological and psychological dependence, he added.
The effects of crystal meth include suppressed appetite, interference with sleeping behavior, mood swings and unpredictability, tremors and convulsions, increased blood pressure, and irregular heart rate, he elaborated.